When people call a law office, they need help and they need it right away. They don't check their watches to see if it's a good time to need your attention. They want help when they want it. And this means that your firm must be ready to answer those incredibly valuable calls around the clock. The last thing callers want to hear is an irritating computer-generated voice reciting a long list of options to choose from. They need to speak to a live person who can quickly address their concerns efficiently and professionally. Competition is fierce when it comes to finding new clients so making sure your phones can be answered 24/7 is key.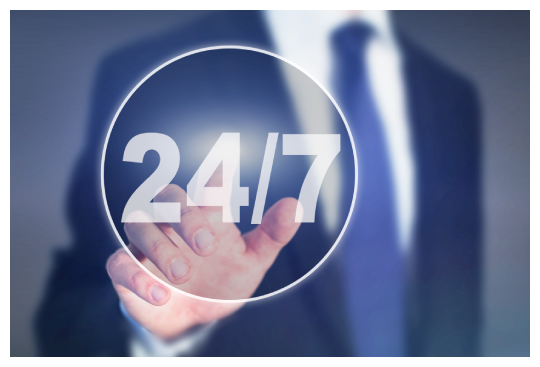 Here's why you need 24-hour lawyer answering service to cover your calls around the clock:
Avoid Missing Out On Significant Clients
If your law firm handles urgent matters like injuries and arrests, being available 24/7 is not optional. You never know when a phone call will come through. Often, people who find themselves in trouble during overnights and weekends end up hiring the first law firm that provides a live person to speak with them when they call.
A gap in communication can cause you to lose business because callers get frustrated easily if they have to leave a voicemail. However, by using the Best Call Center, you will never have to stress over missing a significant client opportunity. Our team is always available to provide live human voice answering during all hours of the day and night.
Your firm probably doesn't have enough manpower to sit around 24/7 performing new client intakes on first-time callers to your practice. Fortunately, our virtual receptionists are always on standby to execute the legal intake process on your behalf. All of our virtual receptionists are well versed in performing legal intake because they are extensively trained for it. Once the lead's personal and case information is recorded, we'll send it directly to you via email and/or text.
Increases Customer Satisfaction
Being available for your current and prospective clients at any time of the day or night when they need you most proves to them that you care about them. According to the 2019 Clio Legal Trends Report, firms that focus on client experience are more likely to create a great first impression and deter the prospect from looking any further. The virtual receptionists at Best Call Center can be counted on to provide a positive experience for clients and new leads. Our receptionists are trained to perform new client intakes and turn them into loyal ones.
Let Us Provide 24-hour Coverage
You never know when a new lead will call your law firm, but when using the Best Call Center's legal answering service, you'll always know that a receptionist is always available to help capture their business. Lawyers that use our call answering service can request that all calls from new leads be transferred to their line immediately so they can talk with them in real-time. And even when they are not available to answer the phone right away, our virtual receptionists will keep the odds of winning over new potential clients high.
If you need to learn more or are ready to set up your service, call us today at 800-385-4656.