Plumbers form an integral part of our life. What happens when a toilet backs up, when a drain is clogged, or when a pipe bursts? A plumber is immediately contacted to repair the issue. As a plumber, it's most likely that your office receives a substantial amount of phone calls every day. And when this calls come in, it's most likely that your customers are in dire need of quick service. Making them wait is such a pain! Conversely, if your plumbing company struggles to answer calls, your reputation is probably being tarnished, not forgetting the untold amounts of business you're missing out on.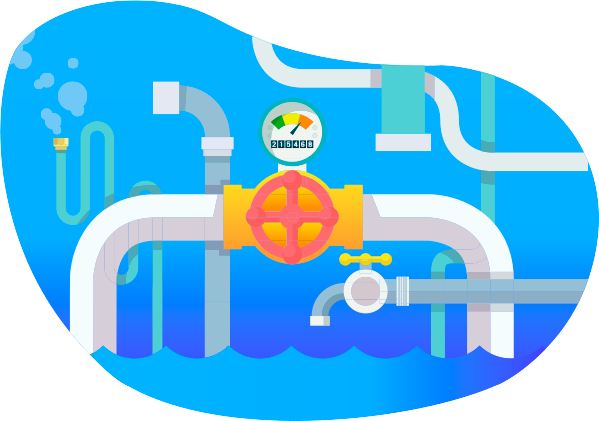 With so many competitors vying for the same business, you don't want to lose miss important business just because the caller is not able to reach an actual human. You need live answering service unsurpassed. Forget the rest - The Best Call center is simply that, the BEST!
As the owner of a plumbing company, you understand that the success of your business is highly dependent on fast response time and high-quality service. The ability to respond to the needs of your clients when they are faced with emergencies is vital. Usually, professionals in this field think that customer service starts and ends at the job site but the first impression that clients will have will be created over the phone.
What's more, over 67% of callers will hang up on the phone if directed to voicemail. You can't afford to lose these opportunities. So, whether it's a prospective customer looking for more information, or a person desperate for immediate help, The Best Call has got you covered.
Unanswered Calls Translate into Missed Opportunities and Income
We are committed to making sure that your plumbing business does not miss an opportunity again. We know the unique demands of this field and that's why we provide customized solutions to help your business flourish and gain its competitive edge. Our agents give your brand a courteous, live voice guaranteed to make a great first impression every time. Our live answering service for plumbers allows you to focus on running your business with peace of mind knowing that your calls are answered by skilled, live operators 24/7.
The Best Call Center is an all-in-one service that goes beyond phone answering service; we also offer dispatching and logistics solutions. When you partner with us, we become an extension of your office. Your customers will experience an unsurpassed quality of care they deserve and your business gets the edge it needs to stay at the top. So, whether you have no way to handle calls after hours or when you step out of the office, or you have a high call volume by day and need help with the overflow, you won't find a better solution.
Outstanding Live 24/7 Plumbing Answering Service
Plumbing service requests may come in at any hour outside of the typical 9-5 workday. If you're using a local service, 24-hour coverage may be substandard or not available at all. Most customers complain that plumbing companies are often difficult to reach. To some extent, this makes sense because most plumbing companies are small businesses with limited staff and resources at their disposal. But at The Best Call Center, we offer a live virtual receptionist answering service for plumbing businesses round the clock. We are available 24 hours a day, 7 days a week, for all your daytime, after hours, holidays, and weekends.
When an emergency strikes in the dead of night, you need to be on-call for clients at their greatest hour of need. In this industry, voicemail just doesn't cut it. Callers want to be assured of your accessibility and availability. With professional, live answering service for plumbers to answer their queries and assure them that their needs will be taken care of, accessibility is what they'll get. The Best Call Center's live agents provide 24/7 personalized assistance for each call.
We use your protocol to guide us on how we should handle your calls. Rest assured, the plumbing live answering service provided by The Best Call center can help distinguish the serious emergencies from the service calls. This means that only the most important calls are dispatched directly to you during after-hours. All other after-hour messages can be delivered by text message, pager, email, or phone.
Allowing The Best Call Center's live operators to handle your calls equals having fewer interruptions to deal with. Although there's bound to be some delays once in a while due to the wrong size fitting or a missing piece of pipe, the phone should never be a hindrance. Our plumbing answering service allows you to concentrate on your work instead of on the phones ringing right, left, and center. What's more, we are so good that your callers with feel they're talking with your office staff. They never know that a third party is involved because they receive exceptional customer service.
How Does a Live Plumbing Answering Service Work?
Plumbing answering service is pretty much a simple thing that is set to bring great changes to your business. When someone calls your number, it rings in our call center. The phone will be answered by one of our friendly and professional live virtual representative. Once the call is picked up, his/her computer will light up displaying all your account information. The operator will then read from the script that you provide us while following your protocol.
You can give us access to your schedule and our operators will make the appointments for you. You can provide us with FAQs and we can answer them for your clients. We can basically take a message from your callers and relay the information to you via text, fax, pager, or even email. So whether you want only having emergency calls transferred, or you want appointments scheduled and a message delivered to you, The Best Call Center has a solution to fit your needs.
What The Best Call Center Can Do For Your Plumbing Company
What happens when you run your business from a cell phone and there are other multiple callers trying to reach you at the same time? You definitely miss out if they never try again. The Best Call Center is adequately staffed with highly trained and experienced virtual receptionists who are capable of handling thousands of inbound calls every single day. All our agents are devoted to excellence and we work hard to ensure that your phone calls are answered in three rings or less.
Appointment Scheduling

Appointments are an integral element of any business and a busy schedule like yours, it can be easy to miss a meeting or double book. We can use your company's online scheduling software to modify, make or even cancel appointments. But if you don't have web-based scheduling software or you'd like to change the one that you're currently using, we will work together with you to choose a new program that works best for you. We schedule meetings in the timeslot that's convenient for you and your customer, enter it in a calendar, and send reminders to ensure that you never miss an appointment again. All the pertinent data is updated instantly and you and your staff can access it in real time.

Call Dispatching

Our team is flexible and can swiftly shift gears whenever you have a change in on-call staff. Based on your pre-designed protocols, we will create a response system for assessing and taking care of emergencies. After we assemble the information that is vital to each job, we will deliver the message to your staff by text, email, pager, or phone. Moreover, before your technician is dispatched, the payments can be processed over the phone to eliminate issues of non-payment for emergency plumbing calls.

Email and Chat Support

We understand that keeping up with the flow can be quite challenging, especially if your customers contact you via web chat or email. We do more than just handling your phone calls. The Best Call Center is there for you and your clients regardless of how they reach out. But if you don't have chat on your website yet, there's no need to worry, we can help you include the feature. You can opt to be answering the chats yourself but you can alternatively utilize your plan minutes to have our team assist your clients.

Lead Capture

Every phone call is a lead and every lead is a potential business conversion. But what happens when you are not there to answer your phone or the caller is directed to voicemail? That lead goes to someone else, possibly your competition. Definitely not good for business! But with The Best Call Center, you just need to tell us what information you need to be captured from callers and our virtual receptionists will get it, ensuring that you do not miss out on new opportunities again.

Messages Taking and Delivery

Our live agents will answer your phone lines in your company name. And in the event that you or your staff members are not accessible to have the phone call transferred to you, we take a message so you can get back to the caller when you're available. You can receive your messages by text, email or through your online portal irrespective of your location.

Bilingual Support

Your plumbing business should be prepared to take address the concerns of the diverse population. The number of non-English speaking customers keeps increasing and it makes business sense to have well trained bilingual operators fluent in both English and Spanish handling your calls. The Best Call Center is devoted to ensuring that you are able to serve as many people as possible.

Advanced, User-Friendly Dashboard

When you sign up for our plumbing live answering services, you will see a dashboard that displays your plan usage, call recordings, reports, appointments, and other important stats. You can also pay your bill, review your messages, change your plan, manage existing contacts, adjust your call handling protocol, and view reports and export them all in one place. The Best Call Center's new and improved dashboard helps keep things in one place by organizing your information on a single homepage. What's more, it's easy to use and can be accessed from any location provided there's an internet connection.

FAQs

When choosing between different plumbing companies, consumers will want to know more about a company before they can contract their services. The virtual receptionists at The Best Call Center can provide your callers with basic information such as directions to your offices and hourly rates and fees. Also, if you run a franchise, there's no need to worry because we can provide your customers with information for the plumber nearest to them. We can as well schedule appointments that will be dispatched from the right locality.
The Benefits of Outsourcing to The Best Call Center
Whether you're a startup business in need of complete live answering solutions or a large corporate looking to handle after-hours and overflow dispatching, The Best Call Center is here to help with unsurpassed plumbing answering service. We have a proven record of success working with plumbers. The benefits of outsourcing to us include:
Seamless Integration

With our services, there's no need to buy or install expensive telecommunications equipment because we work remotely and virtually. We're committed to offering high-end services and that's why our operators use the most advanced tools and equipment available in the market. With advanced digital recording technology, we are able to record all phone calls we answer for you and we can relay them to your office anytime. We tailor our plans to meet the needs of your company and with our instant activation; you can be set up on service in just a few hours. We have the staff and the equipment; we make it work for you.

Personalized Service Plan

We understand that every plumbing business is unique and that's why our team will closely work with you to find out what your business needs, after which we will develop a customized service plan that's the best fit for your company.

Professional image

Professionalism is crucial to obtaining and maintaining clients in the plumbing industry. For this reason, our live-voice agents won't let any call to go to voicemail. We're committed to ensuring that all patrons of your company get a high level of personal care that they ought to, making them feel that their business is valued. At The Best Call Center, we keep both brand-driven plumbing franchises and local plumbers on a level playing field.

Talented Live Answering Representatives

One of the main problems experienced by most plumbing companies with answering services is having unskilled, poorly trained telephone service representatives. But with The Best Call Center handling this for you, there's no need to worry about your staff not being qualified enough because every agent that we employ undergoes extensive and ongoing training. They communicate with zeal, empathy, and professionalism so they serve as excellent representatives of your business. What's more, all our live answering service representatives are fluent English and Spanish speakers and trained to adhere to your protocol. Your callers will never know that they aren't actual employees of your business.

Comprehensive Reports

We will send you detail reports to keep you updated about all calls that were answered for your business. The reports show how every call was handled, the caller ID, date and time. These reports are conveyed to you any time but you can also get them at a click on your dashboard. You can use the reports to ensure that leads are followed up on and that your client's needs are fully met. With detailed reports and analytics, you can turn data into actionable information that will give you a competitive edge. Export comprehensive reports that detail calls by billable time, calls by region, calls by date and time, frequent callers, and more.