Many of our customer's businesses highly depend on appointments to capture leads, convert them, and meet with potential and current clients. From a real estate agent or a medical office, a plumbing company or a law firm, they use some kind of appointment scheduling app that allows clients to book time with them. Appointment scheduling can be achieved by clients calling your office to make a booking. Or, if you have a calendar online, they can just book it themselves. But it makes better business sense to combine your appointment setter with your answering service. Clients who don't know how to navigate the software get the help they need before they move on to your next competitor.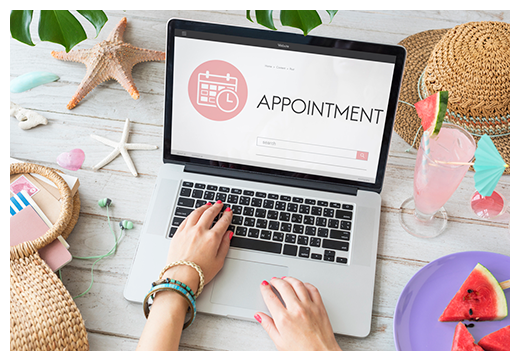 Benefits of Having a Virtual Receptionist Set Your Appointments
Our live operators can help your business manage your calendar in an efficient, user-friendly manner. You just give us access to your scheduling software and we'll schedule or reschedule appointments for you. When you callers want to book an appointment with you, we do it for them. This way, you have one less thing to worry about because your schedule is managed without taking time away from dealing with important tasks and delivering the services you provide.
When you let our answering service to handle appointment scheduling, it becomes easier to offer a one-call resolution to your clients. We schedule an appointment for them on the first call and this means that they no longer will have to call back to book with you or your staff. And since you'll be able to see the adjustments in real time, we can be on the same page, at the same time.
You're able to book more appointments when you offer appointment-setting support. And if your business is appointment-based, that means improved revenue generation. Our virtual receptionists are available 24/7/365 and can help clients book appointments when you're busy or closed.
How the Appointment Scheduling Service Works
Setting up is easy as long as you're using online scheduling software with a public booking page. But if you're looking for an appointment scheduling app, we can recommend some full-featured calendar management application that's accessible online and has a booking page. When a client calls in to request an appointment, there will be no need for our receptionist to transfer the call or take a message. Instead, they will just check your booking page and schedule an appointment based on the client's needs and your availability. It's that simple!
Our virtual receptionists also place reminders to ensure that you never miss an appointment again. Get help keeping your calendar full without distracting you from your business. Get in touch with The Best Call Center at 800-385-4656 to get started. We look forward to hearing from you!