Every business depends on sales to grow. For many companies, the sound of the sales and marketing phones ringing is the next best sound next to that of enchanting music. But if your phones are not ringing, it could only mean that very few people are interested in what you have to offer. However, growing your business depends on your receptionists, the people who act as the direct link with your clients and create the first impression. How your calls are handled can determine whether a sale will be closed or not. Also, having an in-house receptionist who is only available only during standard business hours can lead to missed calls and delays in relaying important client information.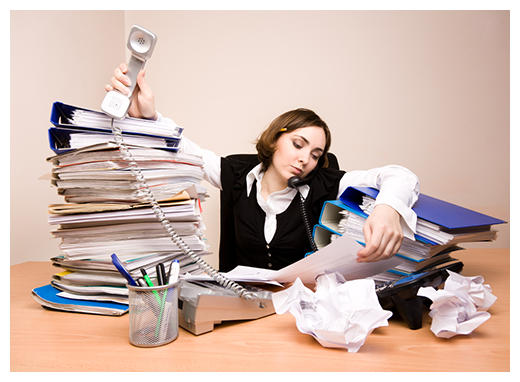 Outsourcing your answering service to individuals trained and experienced in providing top-notch customer care removes the pressure off your staff and allows them to concentrate on other important tasks. You need an answering service if your business is showing any of the following signs.
Lost time means lost productivity. A live answering service ensures that there is someone available 24/7/365 to answer your calls and respond to your clients' inquiries on time. With the efficient delivery of services, your time and that of your staff is freed so you can concentrate on other important tasks.
 If all your team does is to answer calls, it's highly likely that they're shirking on other core tasks. So, when there are projects that need maximum concentration but the phone just won't stop ringing, it's almost impossible to focus on their work. This will severely affect the productivity of your employees. But you can prevent this from happening by partnering with a live answering service to handle all or a portion of your calls.
Callers Reaching Voicemail
Reaching voicemail or an automated service can be quite frustrating, especially if a caller has an urgent need. While the voicemail service was developed to capture messages whenever the phone is unmanned, a good number of callers will hang up without leaving a message because they are unsure if or when their calls will be returned. If your callers are greeted by an automated voice when you're not in your office, it's time to consider having an answering service with live operators that will expeditiously and courteously attend to your customers.
You're Struggling to Find Talent
If you've reached a point where your company needs a receptionist but finding or keeping a suitable candidate has been a problem, then a live answering service is possibly your best bet. Virtual receptionists, on the other hand, work remotely and are generally recruited from top talent and taken through comprehensive training to ensure that they are able to deliver excellent service and exceptional customer experience for any individual getting in touch with your company. Partnering with an answering service allows your business to tap into the best talent pool. Also, you get a high level of professionalism at just a fraction of the cost of recruiting, hiring, training, and paying a full-time employee, not forgetting the stress of ongoing training and equipment upgrades. The availability of a wide array of features that get at such a low cost only sweetens the deal.
Your Company Is Mostly Online
Keeping your business online is good for your business but it can present a bit of issue because it comes with phone traffic. If you're working from a limited workspace, it's easy for emails and calls to fall by the wayside, especially at night and on weekends when there's no one in your business to field, track, and maintain avenues of communication. If you're facing such a problem, enlisting an answering service means that you'll be open for business around-the-clock and your callers will be greeted with a branded script that will put your business' best face forward. This will create a sense of trust among potential clients.
When your customers are constantly complaining about your products or services, chances are that there's an individual dropping the ball along the communication line. Poor customer service is often an indication of a poorly run business and you can be sure that most clients will avoid dealing with such a business. When customers complain about poor handling by your receptionists or are not happy with how their inquiries are handled, that's a sign that you should look for an answering service, fast.
Adding the Human Touch To Your Customer Service
Making sure that your company offers stellar services is usually the first step in showing that your company values its clients and customers. So, if you're looking to improve the level of customer service that you offer, a simple and effective option is adding the human touch to your call answering service. This means investing in an answering service that doesn't put your customers on hold for hours or transfer them through a web of automated voices.
Customer service horror stories are plenty as people crave real human attention. A survey done by Forrester shows that 45% of consumers will hang up if their questions are not answered fast enough. Getting stuck in an endless phone tree can be frustrating because callers want to get the information they need on the first call. It makes business sense to make a majority of communication with clients as organic as can be.  This will help you obtain new customers and also keep the ones you already have.
Working with The Best Call Center can have a dramatic impact on the manner in which your business operates. Not only will you be able to get better organized and increased customer satisfaction, but you'll also be freed up so you can focus more of your time on building your business. Here's the importance of good customer service over the phone:
Reduced Call Times
An endless web of automated messages tends to get callers frustrated and many will hang up. Rather than listening to the automated voice to get the information they are looking for, most callers want to talk to a live person who can understand their needs and answer their inquiries. Speaking with a live representative reduces overall call times as it reduces the need to transfer callers.
Live Agents with Bilingual Services
Language barrier is one of the biggest issues faced by businesses using automated phone services. Not every customer understands English and not everyone will understand how they should press a button for their language. A virtual receptionist who is able to communicate in both Spanish and English will instigate direct, precise communication without causing any confusion and frustrations.
Call Routing to Connect Customers
Not all calls will be handled in the same manner. In some cases, a specific inquiry requires a caller to get connected to a specific member of your team. For instance, an answering service agent may not be able to help customers with very specific troubleshooting or return funds to customers. This is where call patching comes in to play. Instead of your customers having to repeat themselves explaining their issue to another individual, The Best Call Center has the capability to transfer calls to you or specified employees at your company to handle your client's special and sensitive requests. The best part is that this is done at no extra cost.
Get Started Today!
Meaningful connections call for real people, not robots. So, if you're looking to add that human touch when handling your callers, give our virtual receptionist a call at 800-385-4656. Don't lose clients to your competitors.