Communicating when there's a language barrier is almost impossible, even more so when it comes to communication between a business and its customers. Your callers will be frustrated, they'll move on to your competitor, you'll lose money and at the end of the day, you won't be happy. In order to obtain more of a market share, you must get a lay of the landscape, know who your consumers are, and find ways to address their needs. It doesn't make business sense to overlook Spanish-speaking potential clients.  
According to the US Hispanic Data Gallery, there are 41 million native Spanish speakers in America, and another 11.6 million are bilingual. It's estimated that there will be over 150 million Spanish speaking people in the US by 2050. With this numbers in mind, you're at great risk of not obtaining a caller's business if there's no one to answer your phone in your caller's preferred tongue. Callers will likely hand up and look for products and services elsewhere. Overcoming language barrier should be a must-have item on your checklist. Let's talk about how a bilingual answering service can benefit your business.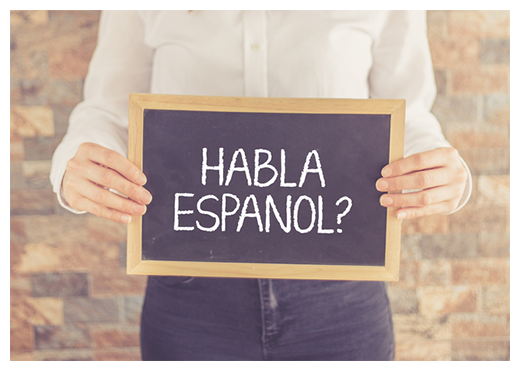 Why should you increase your expenses by tens of thousands of dollars for an in-house bilingual receptionist when you can get a team of bilingual receptionists to help you convert catch Spanish-speaking callers during the after-hours and weekends when there's no one in your office. This will help you save money and time because you won't have to deal with the process of hiring extra employees as well as paying them. At just a fraction of the cost of hiring and training new employees, you can get a fully bilingual live answering service that will help you tap into markets that might have been closed off before. What's more, you may get this without any additional costs over our normal answering service charge. It's a win-win for you and your company.
Professional call experts to give your callers real professional experience
It is important to sign up to a call centers with a live bilingual answering service that are fully staffed so that when you enlist their services, you can rest assured that your Spanish-speaking callers will be getting the highest level of service, making it all the more likely that they will end up being your customers. Quality call services have reps that are thoroughly vetted and trained in customer service, professional growth, and business needs. They should be well equipped to meet the changing and growing needs of your business and the reps should be expected to be second to none!
Build your clients and customers' confidence in your business
Meeting the needs of your clients and customers in their own language provides comfort and commitment, and also increases your brand awareness. No matter where the customers might be from or what language is spoken, answering calls in a language that can be understood helps create consistency. This helps in creating loyal customers who will spread the word about the products or services you offer. Customers who are more comfortable speaking Spanish than English will get the right message that you value all of your customers and care enough to make them feel comfortable. We know it's so much easier to have our order taken care of, problems, fixed, and questions answered when there are no communication barriers. It's comforting.
Looking To Market Your Products or Services to both the English and Spanish-Speaking Population Simultaneously?
Advertising your products or services successfully means that your office will receive an influx of calls from individuals looking for what you have to offer. But if you're looking to target a new market share of consumers you were not able to previously serve because of barriers in communication, you'll need to ensure that they have someone to speak with when they make that first contact. That is where bilingual answering service comes in. At companies such as The Best Call Center, they understand the changing business dynamics and that is one element that has kept us on the leading edge and has made us the best there is in the answering service industry.
Even if everyone in your office is a Spanish-speaker, you'll still need an answering service that is fully staffed with bilingual receptionists—just in case you receptionists are busy, or for on the nights and days when no one is there to answer the phone. To begin growing your business meeting the needs of your Spanish-speaking clients and customers, sign-up for The Best Call Center's bilingual answering service experience today, or give us them a call at 800-385-4656.